Our liners are all accompanied by self-certification of the yarn.
We work on your sampling of colors and also in our continuing wool production are natural colours: melange wool and cashmere.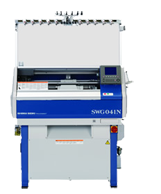 Latest generation tools allow for the production of accessories with WholeGarment technology.
Gloves, socks, stockings to five fingers, hats, scarves, neckties, muscles warm and so many other fashion accessories all made without seams.